WORKPLACE PROBLEMS AND SOLUTIONS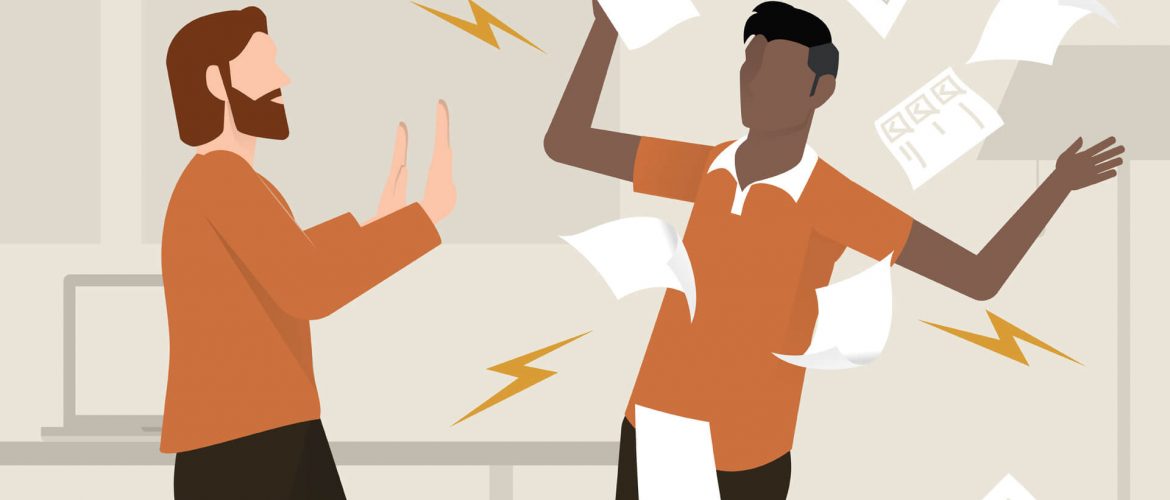 A workplace is a place of employment where someone works for their employer. Such a place may range from a home office to a large office or factory building. The workplace is one of the most important social spaces other than the home for developed societies, constituting' a core concept for many entities: the worker and his / her family, the hiring agency, the organization's customers and the community as a whole
People spend about a third of their adult lives at work and many consider job issues a growing source of stress. It's difficult to have a workplace where the tasks, aspirations and personalities of everyone fit together seamlessly, without conflict. As such, such issues in the workplace can cause negative psychological symptoms. For example, research suggests perceived stress in the workplace is associated with a higher prevalence of mental health disorders like depression and anxiety. Workers may find it helpful to them both professionally and personally to address their job pressures or problems with a qualified mental health professional.
COMMON WORKPLACE ISSUES
Common workplace issues that employees face include:
Sexual harassment is a form of harassment tactic with explicit or implied sexual overtones, including an unwanted or improper offer of benefits in return for sexual favor.
Sexual harassment involves a variety of acts ranging from verbal transgressions to sexual violence or assault. Harassment can occur in many different social settings such as the workplace, home, school, church, etc. Hurricanes or casualties of some sort
An interpersonal conflict is a disagreement in some manner which can be emotional, physical, personal, or professional between two or more people
Interpersonal conflict occurs when a person or group of people frustrates or interferes with another person's efforts at achieving a goal. According to some researchers, conflict can consist of three different components.
The behavioral component of conflict involves someone interfering with the objectives of another person. For example, a co-worker and you may be competing in a sales contest, and he constantly bugs you during your sales calls to trip up your sales pitch. He also throws away message slips from your potential customers that the receptionist leaves when you're away from your desk.
The cognitive component involves a disagreement between the parties that illustrates the differences between the interests and objectives of the conflicting parties. For example, as the vice president of research and development, you may have a disagreement with the vice president of production over the allocation of company resources because you each have different goals and objectives that relate to your particular division.
The affective component relates to the negative emotional states of the conflicting parties. For example, conflict with a co-worker may make you feel anger, stressed, and frustrated.
SOLUTIONS TO INTERPERSONAL CONFLICTS IN THE WORK PLACE
Identify the Type of Conflict
Pseudo conflict
A pseudo conflict typically happens in one of the following situations: A misunderstanding leads to a difference of opinion. The people involved in the conflict believe they have different goals when, in reality, they have similar goals. When one person involved in the conflict mocks or taunts the other (sometimes called badgering).
2. Fact conflict
Fact conflict happens when two or more people disagree over information or the truth of something. Because this kind of conflict involves facts, you can often resolve it pretty easily. All you have to do is check a credible source for the truth.
3. Value conflict
This kind of conflict comes up when different personal values lead to disagreement. If you and a coworker have different views on abortion rights, for example, or you and your brother have different religious beliefs, you might find yourself in a value conflict.
4. Policy conflict
This conflict happens when people can't agree on a problem-solving strategy or action plan in a given situation. Personality, upbringing, education, and any number of other factors might have an impact on someone's approach to policy, or problem-solving, so this kind of conflict isn't unusual. It might happen coworkers have different ideas about the best way to tackle a big project.
5. Ego conflict
Ego conflict often develops alongside other types of conflict, and it can make any disagreement trickier to navigate. It commonly happens when conflict gets personal.
6. Meta conflict
Meta conflict happens when you have conflict about your conflicts.
"You always nod along, but you never actually hear what I'm saying!"
"That's so unfair. That's not what we're talking about at all."
To resolve conflict effectively, you need to communicate clearly. While meta conflict might bring up issues with communication, it often does so in unhelpful ways. When you don't address communication problems productively, especially when you're already at odds, the conflict can become more complicated.
DECIDE YOUR RESOLUTION STRATEGY
Withdrawal
When you withdraw from conflict, you're avoiding the problem. You don't talk about it, or you only talk about it in roundabout ways. Withdrawal (also called avoidance) might involve: ignoring the other people involved, refusing to discuss the issue, shutting down entirely, physically withdrawing from conflict, brushing off the problem
2. Accommodation
Accommodating involves putting someone else's needs first. You concede the conflict, which allows you to "be the bigger person," so to speak.
3. Competition
Competing, or forcing, involves pushing for your own perspective. You want to "win" the conflict, so you try to get the others involved to see things your way.
4. Compromise
When you compromise, you give some ground, but so does the other person. In other words, you both get some of what you want. This can make compromise seem like a great approach to conflict resolution.
5. Collaboration
Successful collaboration generally does mean everyone wins. But it requires effort on everyone's part, so while it might offer more long-term benefits than other conflict resolution strategy, it may have less popularity than quicker solutions like compromise.
Other work place problems include
Communication problems
Gossip
Bullying
Harassment
HIGH STRESS JOBS
Some jobs involve a particularly high degree of stress. One theory, known as the job demand-control (JDC) model, posits that high degrees of work stress are prevalent in jobs with many demands and little control over working conditions. Some jobs known to be particularly stressful include firefighter, airline pilot, enlisted military personnel, police officer, and event coordinator. Additionally, some jobs such as health care worker, teacher, social worker, and administrative support worker have been associated with increased levels of depression. Elevated rates of substance abuse are prevalent among employees who work in mining, construction, and the food service industry.
Work-related stress is a significant problem, with an estimated 40% of workers describing their job as very or extremely stressful. In addition to mental health symptoms, work-related stress can cause physical health problems such as heart attacks, hypertension, pain, and insomnia.
HOW PSYCHOTHERAPY CAN HELP WITH WORKPLACE ISSUES
There are various ways in which therapy may be useful to help resolve workplace issues. Therapy can effectively treat depression, anxiety, and other mental health symptoms that result from workplace issues. Therapists can also teach healthy coping skills that employees may use to manage work-related stress and other issues.
For example, cognitive behavioral therapy helps people identify and change unhealthy thoughts, which often results in improved mood and overall well-being. Mindfulness, meditation, and other stress management techniques can be taught in psychotherapy. Therapy can also be useful for improving an individual's assertive communication skills, as well as other conflict resolution skills. These skills can then be applied in the workplace to improve one's experience at work.