Know more about
Coursepedia

today
Our vision is to ensure inclusive and equitable quality education is available to all. We aim at promoting lifelong learning through Online Education by helping learners acquire knowledge and skills needed to enhance Sustainable Development Opportunities as part of SDG Goal 4.
Company Details
Coursepedia is a for-profit social enterprise that believes in one major thing: That everyone can Improve and Enrich their lives through learning and mastering of new skills.
Coursepedia is the trademark of Coursepedia Learning Center (an Online Learning Platform) and a registered company under Corporate Affairs Commission (RC 3013082).
Our History, Story and Values
Coursepedia provides universal access to Free and Premium Online Courses with valuable credentials. As a for-profit social enterprise, we are dedicated to make Learning available for all, by studying at any subject level on anything, anytime and anywhere. Our goal is to Create Opportunities and Promote Positive Social Change through learning. Our courses do not only help Learners to jumpstart their careers, but also enrich their credentials and build their capacity for prosperity.
Our Story
Since foundation, Coursepedia has been growing organically to become a major force in online education and skills training. Since existence, we've built a platform where anyone, anywhere can learn, enhance skills, jumpstart career and improving lives through learning. Coursepedia is committed to access to quality education and skills training irrespective of geographical location, gender, economic status or any other barriers that can so often stunt potential. So we offer a range of free and Premium courses that meet the many diverse needs of our learners.
Knowledge
With Coursepedia, learners can build their capacity with new skills and achieve their goals by learning from an online education platform that delivers high quality learning materials. We are passionate about improving people's lives through online learning.
Empowerment
Our drive is the potency of achieving SDG goal 4 through learning and skills training to transform people's lives for the better and more productive living. We are enthusiastic about providing transformative learning that meets people's needs and helps them master new skills.
Innovation
Entrepreneurship is in our GENE and we thrive to achieve our mission by developing innovative learning and building on existing ideas by creating an intuitive learning experience designed to help you master real-world skills towards your career right away.
Transformation
We believe that education is a powerful force for transformation of entire societies and we are committed to delivering high impact learning experiences that prepare learners to face the challenges of working and contributing meaningfully to their society.
Contact Information
If you have a question regarding any of our services that is not answered in the section above, kindly contact us:
For corporate services:
corporate@coursepedia.ng
For general questions and support:
support@coursepedia.ng
For Certification Enquiry:
certification@coursepedia.ng
Hotlines:
+234 7015502017, +234 8119982823
Office Address:
Km 2, Idiroko Road, Beside Capital Express Assurance Limited, Ota, Suburb Lagos, Nigeria.
Limitless Learning. More Possibilities.
Professional Recognition Award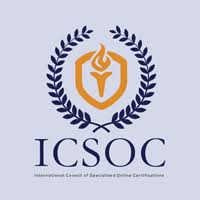 Recognized by: International Council of Specialized Online Certifications (ICSOC)