Microsoft Excel – Excel from Beginner to Advanced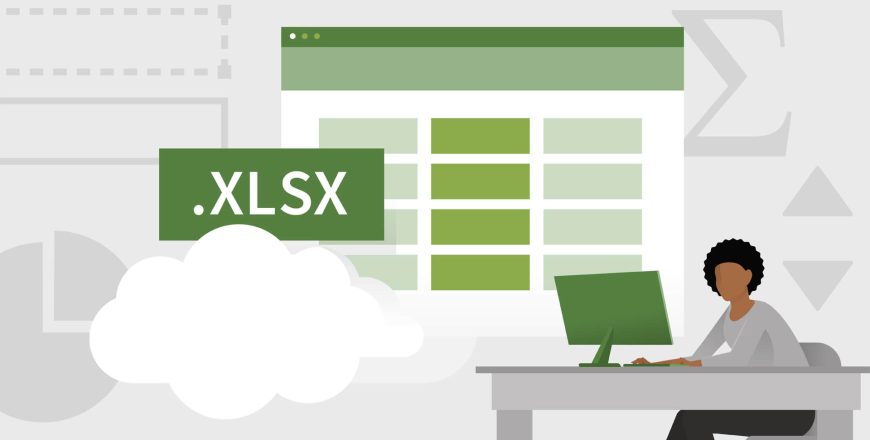 Microsoft Excel is a software program produced by Microsoft that allows users to organize, format and calculate data with formulas using a spreadsheet system.
 It features calculation or computation capabilities, graphing tools, pivot tables, and a macro programming language called Visual Basic for Applications (VBA).
This software is part of the Microsoft Office suite and is compatible with other applications in the Office suite.
Do you want to learn how to work with excel even if you don't have any prior experience? Then this is the right course for you as you will learn how to work effectively with Microsoft Excel.
If you want to become any of the following…
Executive Assistant
Office Clerk
Auditor
Accountant
Business Analyst
Financial Analyst
Credit Counselor
Sales Manager
Financial Manager
Investment Banker
Real Estate Agent
Market Research Analyst
Financial Advisor
Business Operations Manager
Entrepreneur
Someone who is involved with a business and would like to be successful
Then you simply have to learn Microsoft Excel. There is no way around it. Microsoft Excel for Beginners to Advanced is sure to get you upskilled as it includes everything you will need. We will start from the very basics and then gradually build a solid foundation that will serve you well throughout your career.
As you participate in each of the lessons you will master Excel tools that will clear away the pain of stumbling through your daily tasks. You will start with the basics, building a solid foundation that will give you further knowledge as you progress into intermediate and advanced level topics.
After this course, you will have mastered the most popular Excel tools and come out with the confidence to complete any Excel tasks with efficiency and grace. Below are just a few of the topics that you will master:
Creating effective spreadsheets
Managing large sets of data
Mastering the use of some of Excel's most popular and highly sought-after functions (SUM, VLOOKUP, IF, AVERAGE, MATCH, and many more…)
Create a dynamic report with Excel PivotTables
Audit Excel Worksheet formulas to ensure clean formulas
What makes this course different from the rest of the Excel courses out there?
High quality of production – HD video (this isn't a collection of boring lectures!)
Extensive Case Studies that will help you reinforce everything that you've learned
Excellent support: If you don't understand a concept or you simply want to drop us a line, you'll receive an answer within 24 hours
Dynamic: We don't want to waste your time! The instructor maintains a very good pace throughout the whole course.
Here are 3 more reasons why you should take this course and learn Excel:
A solid understanding of Excel opens the door for several career paths
Top Excel users are promoted very easily inside large corporations
Secure Future. Excel skills remain with you and provide extra security. You won't ever have to fear unemployment
This course is suitable for people without any previous experience and it's perfect for University students, Entry-level Finance, Business, and Marketing professionals who would like to grow faster than their peers.
Master Microsoft Excel from Beginner to Advanced
Build a solid understanding of the Basics of Microsoft Excel
Learn the most common Excel functions used in the Office
Maintain large sets of Excel data in a list or table
Create dynamic reports by mastering one of the most popular tools, PivotTables
Wow your boss by unlocking dynamic formulas with IF, VLOOKUP, SUMIF, COUNTIF, LEN, and many more
Work comfortably with Microsoft Excel 2016 and many of its advanced features
Be much quicker at carrying out regular tasks
Become your team's go-to-guy when it comes to Excel
Use sophisticated functions that will improve the quality of your work
Who is this course is for?
This Microsoft Excel course will take you through 10 Sections of Microsoft Excel topics.
If you are looking to take your Excel skills from beginner to advanced level and beyond, then this course is for you.
No Prior Excel Knowledge Required
Microsoft Excel 2007, 2010, 2013, 2016, 2019 or Microsoft 365 Excel Loaded on Computer to Follow Along with Instructor Lectures is Recommended
Certificate of Completion (Sample)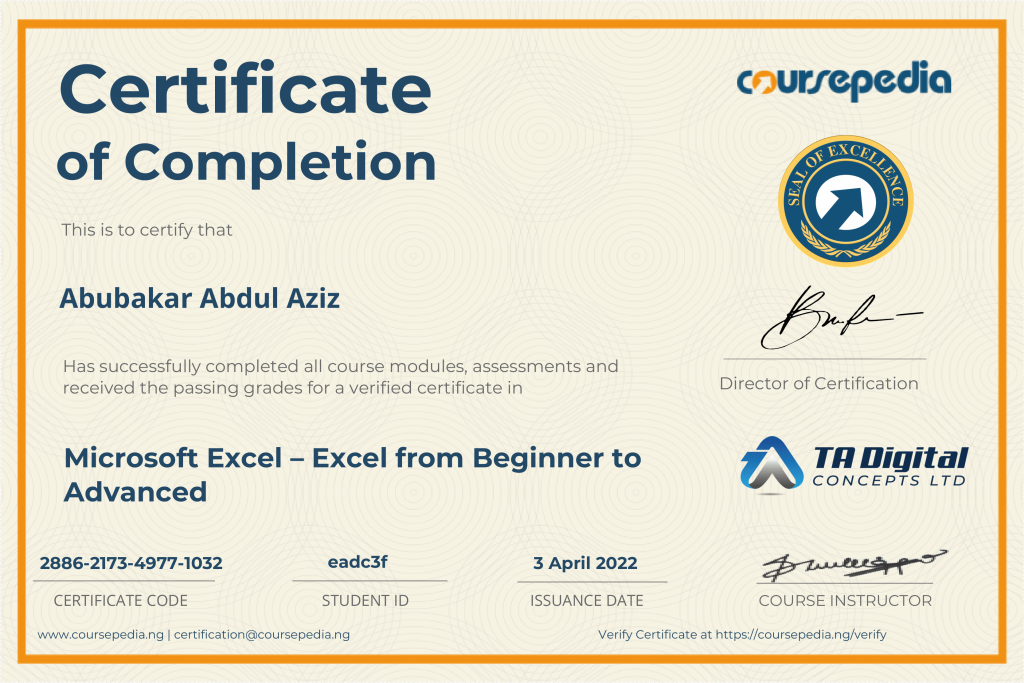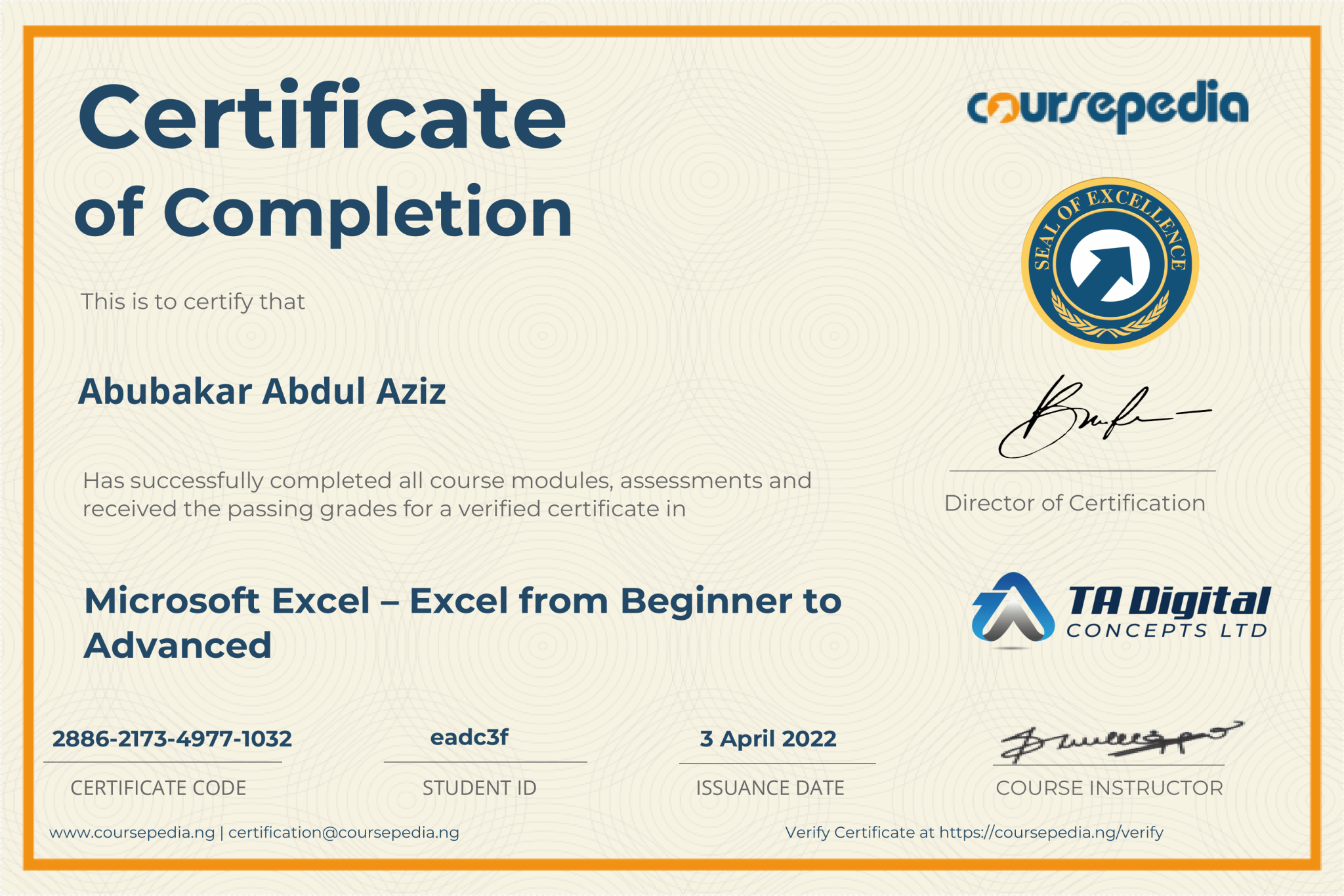 SECTION 1: STARTING EXCEL
2
Microsoft Excel - Course Materials
3
Understanding Excel User Interface
4
Understanding Excel Workbook and Worksheets
SECTION 2: ENTERING DATA INTO CELL
1
Combined what you can enter in a Cell
SECTION 3: SHEETS ROWS AND COLUMNS
2
Working with Rows and Columns
SECTION 4: FUNCTIONS AND NAME RANGE
SECTION 5: FORMATTING AND CONDITIONAL FORMATTING
SECTION 6: PRINTING
1
Icons Shapes and Formatting
3
Printing Headers and Footers
SECTION 7: MANAGING TABLE
SECTION 8: MANAGING TEXT WORKING WITH FORMULAS AND FUNCTIONS
1
Using the IF Functions PT. I
2
Using the IF Functions PT. II
7
How to use VLOOKUP with Exact Match
8
VLOOKUP with Approximately Match
SECTION 9: CHARTS
3
Using the Recommended Charts
4
Creating a New Chart from Scratch
5
Creating a New Chart Sheet
6
Walking through all the chart options
SECTION 10: PIVOT TABLES
1
Pivot Table Example PT. I
2
Pivot Table Example PT. II
Be the first to add a review.
Please,
login
to leave a review