MBA in Doing Business Across the World
Earn your MBA with a specialization
Make your CV stand out from other MBA graduates. Specialize in hot topics like international business, cultural awareness, and global markets.
Here are some examples of the work you'll be doing within this specialization:
Analyze the business environment within multiple countries including their traditions, systems, and society
Formulate sustainable practices for the global environment that are
informed by current issues in diversity and cultural awareness
Evaluate current conditions and complexities in multiple countries to
navigate complex business challenges and opportunities across borders
Create a business case for international business or a venture through partnerships originating in the local country
Gain skills you will use in your career tomorrow
Your course starts on the first of the month. Each course consists of six modules, each module will take you one week to complete and each course is designed to take you eight weeks to complete. Nexford's learning design team has purposefully created courses to equip you with competencies mapped to the skills employers are looking for. Each course has 5-7 learning outcomes based on the skills employers need. Everything you learn gives you measurable skills you will use to succeed in today's world of work.
The online learning environment contains everything you need to learn at Nexford. The courses are not live or recorded lectures. Instead, they're reading, videos, interactive elements, quizzes and relevant case studies. Programs include assessments, peer-to-peer discussions, and a final project to practice what you've learned in a real-world context. Program content is available 24/7 during the course, and you have opportunities for collaboration and networking with learners during and after your program. Our global community of learners work at top companies such as Microsoft, Deloitte, and Google. Plus, you get a Microsoft 365 license at no extra cost.
You'll have 24/7 access to success advisors to support you. Faculty also provide you world-class support. Book appointments with them, get individual feedback, and attend regular optional webinars. Nexford courses are rigorous and they encourage critical thinking – because we care about what you know how to do not what you know you have regular hands-on assessments reflecting the business world.
We're no ordinary university! We make things simple so you can focus on what's important: your goals! At Nexford, you can start learning now and send us your documents later. Just fill in a few details, upload your government-issued ID and pay your application fee. That's it!
What happens next? After your first course starts, you'll have 60 days to send us your missing information, such as a diploma or grade transcript. Please take advantage of our English test (at no cost), and achieve the minimum score outlined in our admission requirements.
We need proof that you completed a bachelor's degree at an accredited institution in a business-related field with a valid copy of your official diploma and transcript.
To be considered for admission as English Language Proficient to Nexford University graduate programs, you'll need to provide one of these:

An official transcript from a college or university
A minimum passing score on an approved English qualification exam within the past two years
At Nexford, you can earn an MBA with a Specialization in Sustainability for as little as $160 per month. We adjust fees to your local market, meaning a low monthly fee for a quality program.
Pay as you go, month by month. There's no upfront cost, and you can cancel any time.
Fixed monthly tuition means the faster you go, the less you pay. Take more than one course and you could earn your MBA in as little as 12 months.
Lack of education is the root cause of most global challenges. We need a new approach. Nexford is the most affordable American university in the world. We're not ordinary.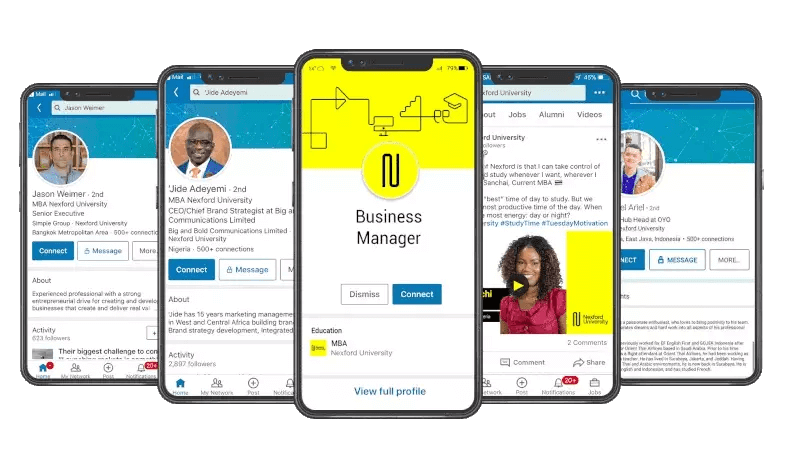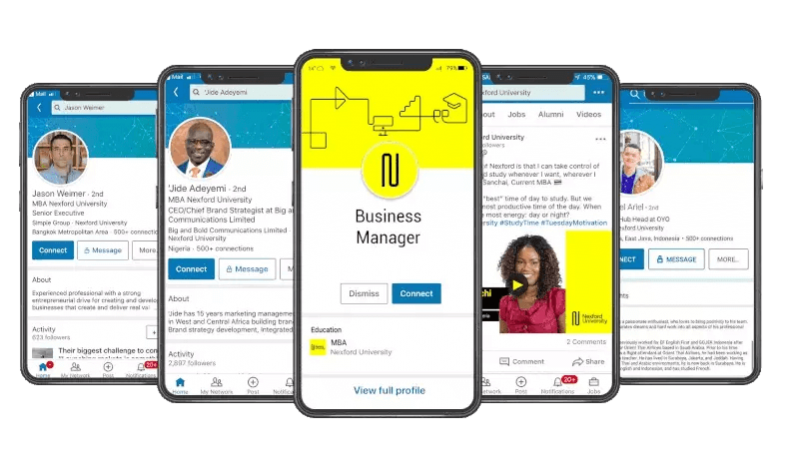 Doing Business Across the World: your career options
Every day across the globe, Nexford learners proudly share their digital badges, certificates, and alumni status on LinkedIn, applying what they've learned. Here are some potential career routes if you take this specialization.